Why Zombie Shows Are Better Than Zombie Movies
I I've watched zombie movies most of my life, but it wasn't until recently that I discovered some of the popular zombie TV shows. In my personal experience, I prefer zombie-centric TV shows over movies. Here are some reasons.
1. More details can be included
When you think of a TV show based on zombies, you think of Robert Kirkman's The Walking Dead. The Walking Dead is a television series that follows a group of individuals trying to make their lives work after a zombie apocalypse.
It differs from classic zombie movies by adding more depth to characters and storylines. The show is presented in 60-minute segments that air weekly. This format allows the show to explore much more depth and substance behind an actual zombie storyline.
Since airing, The Walking Dead has detailed and explored cultism, sexism, racism, and sexual infidelity. It's able to do this because each plot point can be introduced, explored, and resolved over a number of episodes, giving The Walking Dead the ability to stay relevant long after the credits roll and spark debates around the principal. the talking points until the next episode confirms or denies the beliefs and conclusions of the audience, this happened most notably with the introduction of Negan and the episode Did Glenn Die.
2. Characters can be more than just a name
We all know the feeling. We sit down as a movie plays out, develop a pseudo-connection with a character, and the movie ends before we can explore the depth of that particular person. This restriction in character exploration occurs due to the limited runtime. TV shows don't suffer the same fate.
With their extended screen time, TV shows are able to display, explore, and resolve situations and ideas in greater depth. This is something the CW series iZombie does very well.
READ NEXT: 30 best zombie movies of the 21st century
iZombie follows a medical examiner named Olivia 'Liv' Moore as she contracts a zombie virus and is forced to live her life as a zombie. iZombie presents the main character as a member of the undead, rather than a visible/invisible hostile presence. It also explores the idea of ​​the surviving personality after the body has ceased to function, because when Liv eats a deceased person's brain, she displays the most important part of her personality, allowing her to help solve murders.
The show runs for 45 minutes at a time and allows Liv, played by Australian actress Rose McIver, to showcase different personalities and flesh out multiple characters in any given series. The show may follow Liv and her Breakfast Club crime-fighting team for the most part, but each series also has a central theme that tells a larger story.
Throughout the story, the narrative changes and evolves from a terrible comic book tale in a dime store to that of a hit series or a best-selling graphic novel. I believe that if iZombie was limited to a 120 minute runtime, it wouldn't be as appealing to its audience.
3. You can reverse stereotypes and challenge preconceptions
The image of zombies is that of a rotting corpse, crawling on broken limbs and claiming that tasty, squishy gray matter. This idea is largely based on the work of the godfathers of the genre, Lucio Fulci and George A. Romero.
While also a purveyor of such stereotypes, George A. Romero also showed his ability to develop and change the image of the zombie with "Bub" from Day of The Dead (the original) and with Big Daddy from Land of The Dead.
READ NEXT: Ranking George A. Romero's Zombie Movies
He did this by showing that both had the capacity for empathy and the ability to relearn how to function in society. This was parodied in Shaun Of the Dead with the now classic scene of zombies taking shopping carts from supermarkets.
Imagine a film centered exclusively on Bub and detailing his long journey from military personnel, to mindless zombie, to rehabilitated corpse. There's a lot untold about Bub, and a TV show would be the perfect place to explore his personal life before, during, and after the events of Day of The Dead (not Mena Suvari's, sorry Mena). I bet that would be pretty fantastic.
4. Zombies don't necessarily mean the end of the world
When we envision a zombie story it's usually burning cars, screaming people and dead bodies, but what if a zombie story wasn't the doomsday scenario we know. How could we explore this idea? Maybe with a show like Santa Clarita Diet.
Santa Clarita Diet is a Netflix original series starring Timothy Olyphant and Drew Barrymore as a married couple whose lives are turned upside down when one of them becomes a walking, talking and running zombie whose only hope not to to become "full Romero" is to eat the brains of the living, it explores the dilemma of personality and poses the idea that once we die and return, our personality is drastically altered.
This idea is interesting, not only because of the comedy and entertainment potential – and it's funny – but also because numerous studies and real-world observations have shown drastic personality changes in those who survived. to a near-death experience or who have actually "died" and come back to life.
Whether this is due to the innate idea of ​​an epiphany or actual changes in brain chemistry is entirely up to your interpretation. But one thing is for sure, it makes for a fantastic show that's allowed to be crazy and weird in ways the movies just aren't. Allowing it the freedom of a TV series allows it to be self-referential presentation and comedic social commentary and gives it the ability to be enjoyed without any real commitment to watching.
5. Zombies don't have to mean serious either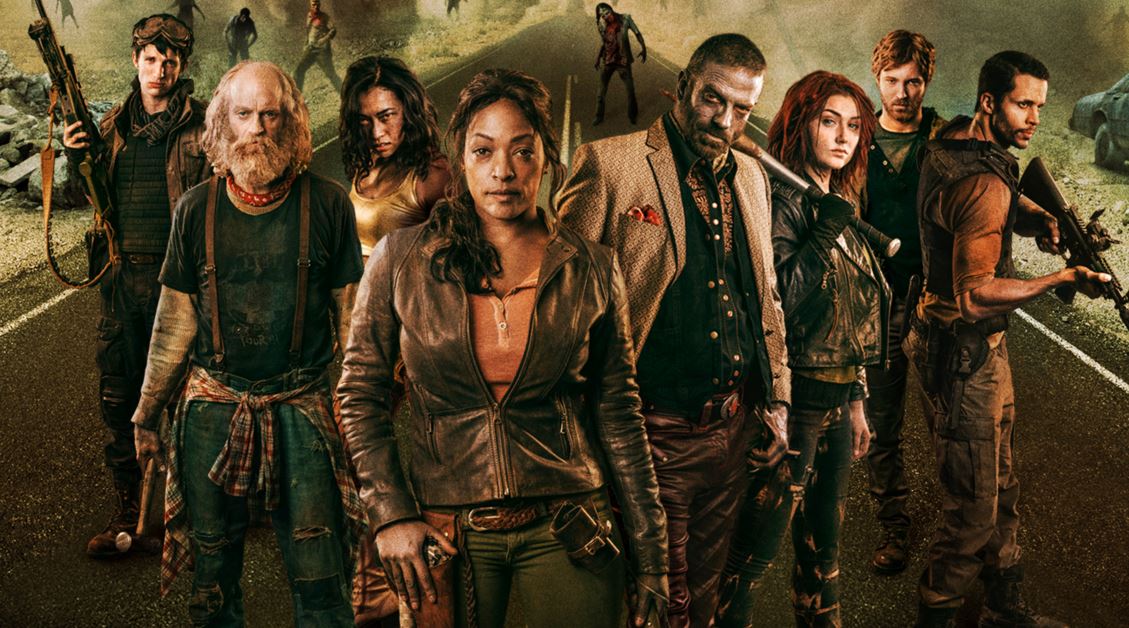 Stories don't have to be serious or mature in their themes to convey a message or a moral: just take a look at Dr. Seuss to be sure. This is something that is often lost in movies, as any zombie flick that tries to be humorous and juvenile while still projecting a mature cautionary tale is usually relegated to the trash can of your local supermarket. We usually only see this happen to movies, as there's a lot more commitment to plot and experience when watching a movie than when casually watching a show like Z Nation.
Z Nation is a SyFy original series that follows a group of survivors of a zombie outbreak. They travel, kill, rob and help wherever they can, so far Walking Dead right? However, Z Nation strays away from The Walking Dead formula by relying heavily on camp's weirder elements of zombie movies – think Return of The Living Dead.
READ NEXT: The best zombie games
Z Nation's characters are a role reversal of standard zombie movie tropes, with women actually being the focus of the majority of the action. The show features a number of different zombie types, survivors, and various goofy situations – Citizen Z might be one of my all-time favorite characters.
If any film had the same take on zombies as Z Nation, it would no doubt be a box office flop, but in a world that brought us Starz horror series Ash VS Evil Dead and British TV presenter Keith Lemon recreating classic movies on a shoestring budget, really anything can happen.
What do you think? Do you agree with what I said, or better yet, do you have any other reasons that make TV shows better than movies when it comes to dealing with the subject of flesh-eating monsters ?
Some of the coverage you find on Cultured Vultures contains affiliate links, which provide us with small commissions based on purchases made while visiting our site. We cover gaming news, movie reviews, wrestling and more.