Why These Pandemic Times Make America's Father Of Zombie Movies More Relevant Than Ever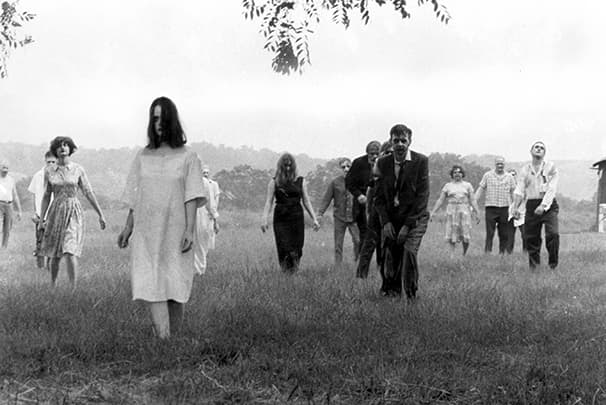 We live more than ever in the world of George Romero.
You don't know Romero? You should. He directed the horror classic "Night of the Living Dead", as well as films such as "Dawn of the Dead" and "Day of the Dead". He basically created the zombie genre in American film, and I expect the book based on his work to be a blockbuster when it releases next month.
He passed away a little over three years ago, but he's never been more relevant than in those strange times. The monsters in a Romero movie have never been obvious monsters. We humans were monsters, bickering and attacking each other rather than using our formidable intellect and abilities to stay out of harm's way. It was as if we needed someone to blame for a problem even more than we needed to fix the problem.
It seems to me that he has given us an appropriate metaphor for the worst of our national response to our current pandemic situation.
I met George when I was writing my own version of his kind of story, and he was kind enough to support my work. In fact, he was as kind as he was thoughtful. I could definitely use a dose of George's advice at this time. This is what George taught me over and over again:
We can do all kinds of good at best. We can win against the bad guys; we can manage the most complex crises competently; we can do emergency surgeries and prevent entire nations from starving to death. But, at the end of the day, we should never, ever lose sight of our incredible tendencies to make a royal mess.
Think about how many scenes George had exactly, uncomfortably fair. There is the one-legged priest in "Dawn of the Dead" warning the overconfident soldiers that many zombies have died "in these streets … but soon I think they will be stronger than you."
This scene gives me chills. He could talk about today. The number of sick and suffering people continues to increase. A piecemeal response will not suffice. We desperately need a careful and humane way to deal with our crisis, and it's not exactly elusive. After all, how is it that a man with one leg can thrive while heavily armed men keep dying? Maybe there is a better way to handle this thing.
Or how about the one-eyed sniper in "Land of the Dead" whose face is horribly disfigured by a fire. He begs others to understand his situation. "I have bad dreams," he tells anyone who will listen. "Damn it, yeah, look at me. You can tell I have terrible dreams.
And if you watch the movie, you have to watch.
I find myself wishing that someone would force us to take a closer look at the intensive care units and the mortuaries and the workers who process our meat. I got a glimpse of the psychic carnage. This is without a doubt the stuff of nightmares.
George showed us great men who imagined themselves to be kings and landowners who felt that their names alone added value. Does this sound familiar to you? His films featured guns that became too comfortable to hold even after their usefulness fell far short of their imagined power. And wouldn't you know? Gun sales in America are at record highs… higher than I bet George himself ever imagined possible.
We should never, ever lose sight of our incredible tendencies to make a royal mess.
I imagine him looking out from the beyond and sporting that unique, somewhat sad smile of Romero, one that expressed his ability to both laugh and cry.
"Zombies are just 'what happens'," he liked to say. The rest of us start from there, and it almost never ends well.
Now the pandemic is the thing that has happened. I tell you what: George would be a hell of a satire on our current situation. I imagine it would create an uncomfortable scenario where our tendencies towards tribalism outweigh our willingness to grapple with the facts on the ground. Or perhaps a strange scenario in which logical actions that are obviously not at all intended to carry ideological weight – wearing masks, for example – are somehow mistaken for a particular political position. Imagine the audacity of this particular intrigue …
In other words, George would advise us with a story. He would make the ridiculous seem plausible and even understandable. That way, we could be prepared when what would otherwise seem ridiculous nevertheless happens.
Last week, missing my friend on the anniversary of his death, I decided to revisit one of his tales. I watched "Land of the Dead", and it was almost too much. There is an uprising of the oppressed. There are too many weapons, and the weapons are inevitably misused. And there's the classic, virtually patented magic of Romero-esque. Zombies are fighting for their freedom and humans are fighting each other.
"If you and I are going to be friends," George told me at the start, "then there are certain movies you have to watch. Start with 'The Quiet Man'."
And I rented it, and I watched it, and I totally missed the point. Captivated by the nearly 10-minute fight scene, riveted by the archaic treatment of women, enchanted by the romance of an old-world fantasy Ireland, I missed what he saw as the core message.
He didn't scold me. He just gently drew my attention to the film's hidden strength: The two fighting men are clowns, he noted. You can always find a way to avoid a fight.
It was the redemption offered by George. The gore in a Romero movie was a deliberate distraction. We can do better, even in the midst of all the ugliness. His films never ended well, but the pandemic can. We just need to stop bickering and start connecting. We need flexibility and compromise. We have to pay attention to the facts. We must be prepared to put aside individual pettiness for the benefit of the common good.
Rest in peace, mate. We will have to walk through your world without you.
Dr. Steve Schlozman is Assistant Professor of Psychiatry at Harvard Medical School and a practicing child and adolescent psychiatrist.