The Scariest Video Game Amusement Parks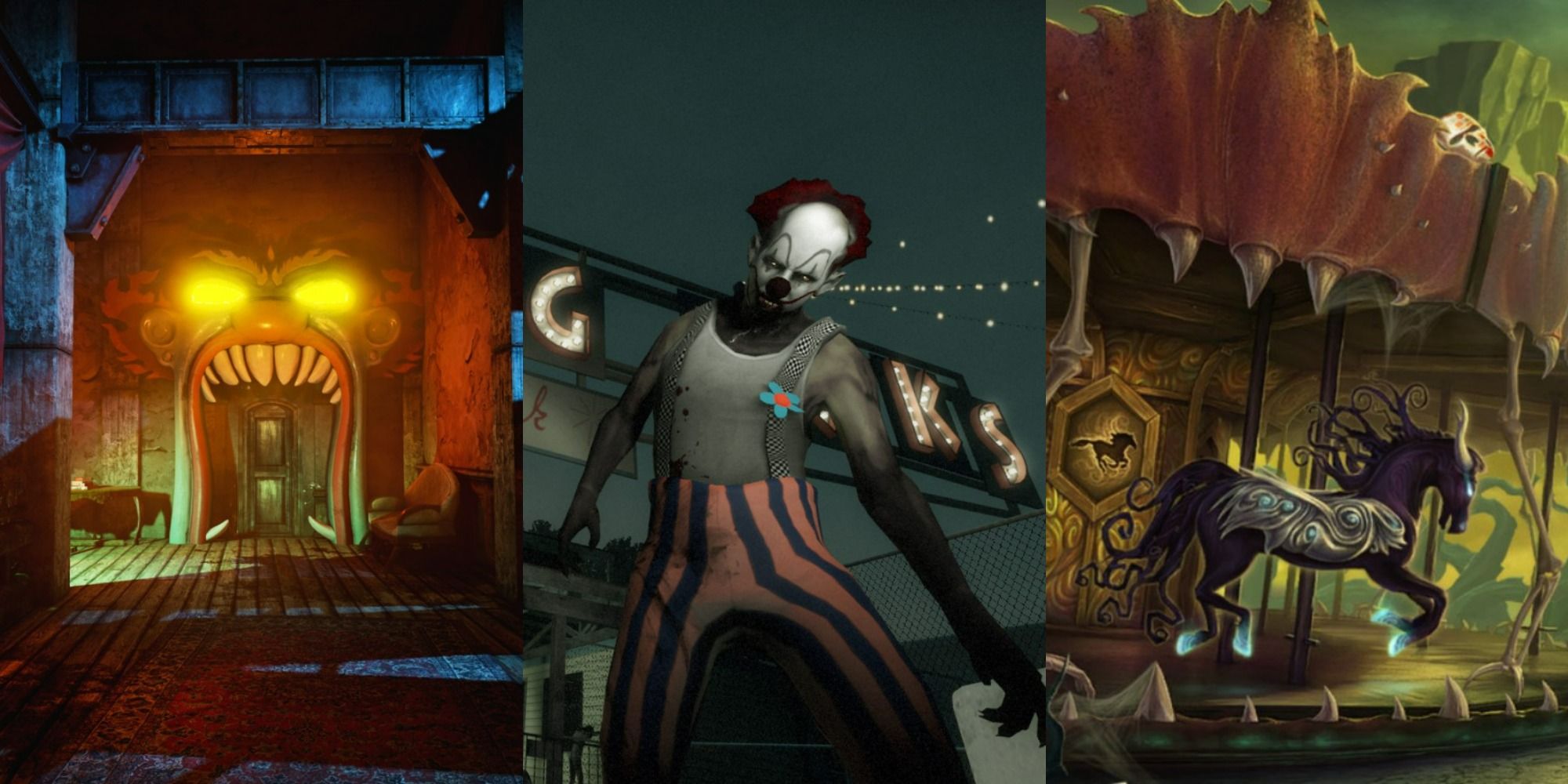 Amusement parks, carnivals, fairs and the like can conjure up images of carefree fun where riding roller coasters, eating cotton candy and soaking in a water ride provide joy and excitement. However, there is a darker side to these so-called places of fun and frivolity. While some people find these magical places lighthearted, others may find them creepy and scary.
RELATED: Horror Games That Are Awesome (Although They Aren't Scary)
Amusement parks in video games are some of the most unique and often complex places to explore. This is usually because there's a diverse set of rides, stalls full of food and games, and probably off-putting mascots just wanting a hug. The following video games all feature some kind of amusement park, carnival, or fairground, and they're downright haunting in many ways. Only the bravest and most courageous should dare to enter these places.
7

Atlantic Island Park (the park)
The park is a dark and brooding first-person horror experience where central protagonist Lorraine must find her missing son Callum who got lost in Atlantic Island Park at night. This spooky amusement park has a very disturbing side to it, unbeknownst to many visitors to this park during the day. However, at night, and when Lorraine is looking for her son, the horrors come out to play.
What makes Atlantic Island Park so spooky is the way it intricately weaves exploration with scripted scares. A standout moment is when players ride through an adjacent "It's A Small World" ride while sitting atop a swan. As well as providing a mysterious backstory to the park's dark past, it also provides a healthy dose of ambience and atmosphere, both of which created the rest of the game's many ghosts.
6

Carnival of Horrors (Dark Arcana: The Carnival)
Dark Arcana: The Carnival is a much overlooked point-and-click adventure game from the minds of Artifex Mundi, one of the most prolific adventure genre teams in the business. As the title of the game makes clear, the titular carnival is where players spend the majority of their time searching for a lost girl.
Dark Arcana Carnival of Horrors is straight out of a nightmare, perhaps feeling right at home in the spirit of R. L. Stine or even HP Lovecraft. Players must track down a devious carnival master who may or may not have had something to do with the girl's disappearance. Along the way, budding carnies can expect plenty of tricky puzzles, all centered around the gruesome Carnival theme.
5

Witchyworld (Banjo Tooie)
Witchyworld, from the beloved 3D platformer Banjo Tooie, isn't scary in the traditional sense, however, it's still an amusement park that most people probably wouldn't want to spend much time in. Witchyworld is one of many creative and highly explorable worlds in this sequel to Banjo-Kazooie and harbors scary moments, even if they aren't scary on the surface.
RELATED: Truly Scary PlayStation 1 Games
Witchyworld has a generally macabre sense of style and presence, with an ethereal, looming darkness all around. From the Big Top Zone to the Wild West Zone, and even the Space Zone, Witchyworld provides a robust 3D playground for Banjo and Kazooie. What makes this place really thrilling is the haunted area, a place full of scary carnival-like characters.
4

Whispering Oaks (Left 4 Dead 2)
Left 4 Dead 2 is an incredibly tense first-person zombie shooter that still has many players enjoying its multiplayer offerings more than a decade after its release. Valve's signature zombie game features some truly harrowing enemy designs, intense gunplay, a clever AI system known as The AI ​​Director, and of course, a host of spectacular locations.
One such location that zombie hunters come across is the Whispering Oaks amusement park. This now abandoned amusement park features theme park staples such as wooden roller coasters, carnival games, and bumper cars. Whispering Oaks earns a spot on this list because it's made up of disturbing moments around every corner, including the killer zombie clowns who relentlessly pursue players.
3

Lakeside Amusement Park (Silent Hill 3)
the silent Hill The series is certainly no stranger to disturbing and macabre images and locations. Gamers need look no further than Silent Hill 1 Midwich Primary School, Silent Hill 2 Woodside Apartment Complex and, in the case of this entry, Lakeside Amusement Park silent hill 3. Although this iconic location is mentioned throughout the series, it's how it unfolds in silent hill 3 who really takes the cake.
RELATED: Horror Games That Are Endearing Rather Than Scary
silent hill 3 stars Heather Mason and as the game opens, after the mall storyline, she finds herself locked in the Lakeside amusement park. The sense of dread is palpable here, mostly due to the series' use of fog and lighting. Players are first greeted by a bloodied mascot (Robbie the Rabbit) perched atop a bench. It's a heartbreaking spectacle that sets the bar for what's to come in Heather's journey into madness.
2

Carnival of the Damned (Monkey Island 2: LeChuck's Revenge)
Carnival of the Damned is a scary lesser-known location in an otherwise light-hearted adventure game. This place, besides having a scary and disturbing name, is really not that extensive. It was built by series antagonist LeChuck, a ghostly pirate figurehead who constantly berates Guybrush Threepwood, the game's protagonist.
LeChuck built this macabre theme park in order to grab the treasure that lies nearby. Of course, Guybrush didn't just let this happen and LeChuck's plan was ultimately foiled. This unique location of Monkey Island 2 is best known for its roller coaster, aptly named Big Whoop Rollercoaster after one of the game's main characters, Big Whoop. The pirate theme and vibe tones down the horror somewhat, however, there are still plenty of skulls and skeletons to find.
1

Seagate Amusement Park (Batman: Arkham Knight)
the batman arkham The game series aren't horror games per se, however, most of the titles feature some sort of spooky vibe or, at the very least, locations. Games such as arkham asylum remain excellent examples of Batman games that have horror elements.
In the case of batman arkham knight, Seagate Amusement Park is worth mentioning when talking about spooky theme parks. Seagate Amusement Park is most notable given that it was converted from a now defunct oil rig. This fact alone makes it a haunting setting. Like many of the darker locations in the Arkham series, Seagate Amusement Park was built to house one of Joker's many operations.
MORE: Scary Horror Games Without Relying On Gore
3 horror games as scary as alien isolation
Read more
About the Author