The funniest MTG cards with silver borders and acorn stamps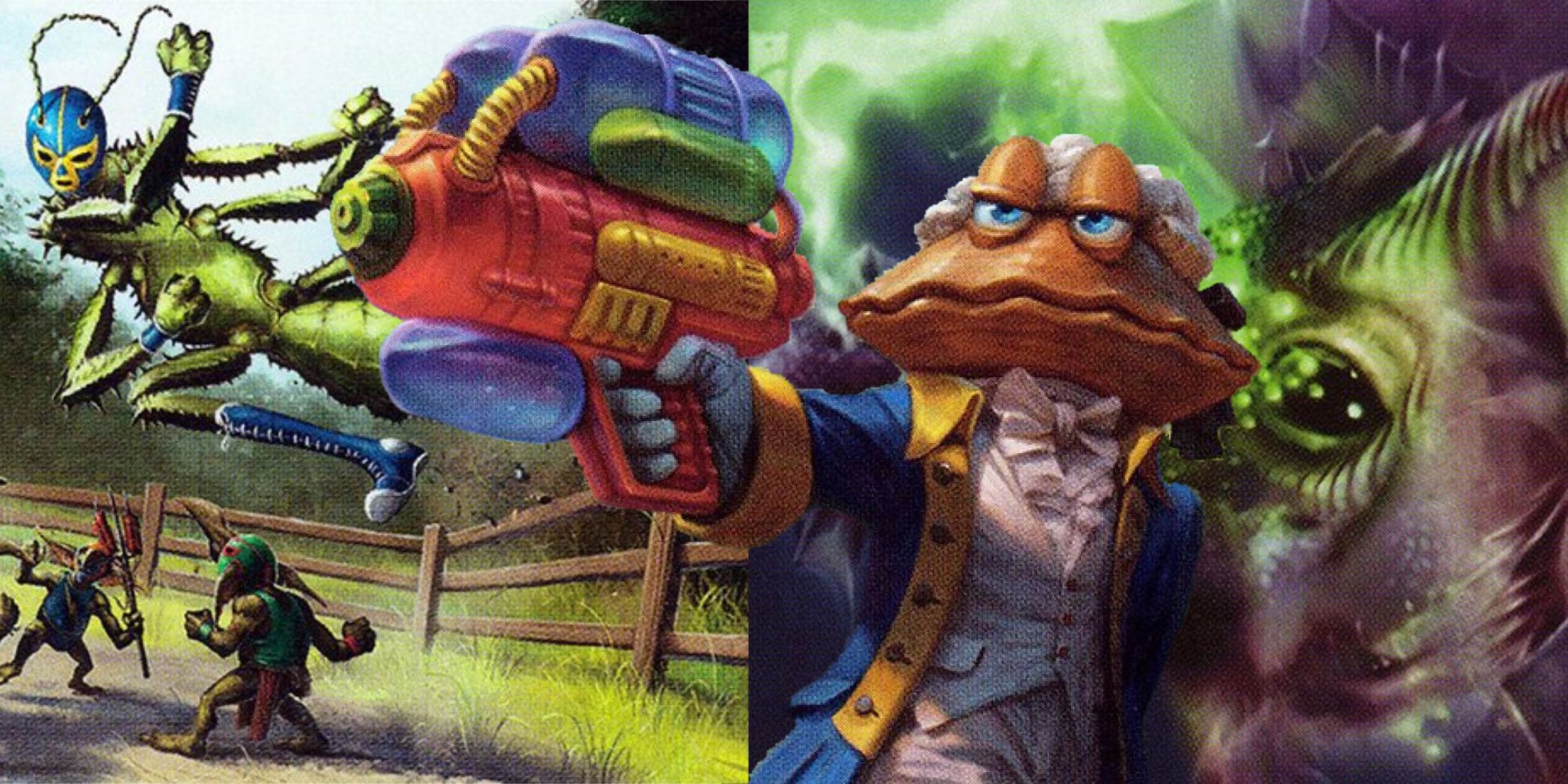 Although many people take the game deadly seriously, Magic: The Gathering can be quite fun, especially when it comes to its silver-rimmed, acorn-stamped cards. Hailing from prank games like Unhinged and Unstable, these cards allow Wizards of the Coast to show off their goofy side, while testing out interesting, often groundbreaking mechanics.
RELATED: Commanders We Recommend For Magic: The Gathering Newcomers
You won't be able to play most of these cards in a competitive format, so if you look in that direction, they're pretty much just a novelty. But, if you and your friends want to add some chaotic fun to your Magic games, these ridiculous cards are a great place to start.
ten

Extremely Slow Zombie
It's been a while since most fictional zombies evolved from their chaotic roots to the sprinting terror fuel of The Last of Us and Left 4 Dead, but the extremely slow zombie is here to set the record straight. Going back to Dawn of the Dead, the ESZ has an ability called last strike, which is exactly what it sounds like: if it fights another creature, it goes last.
RELATED: Magic: The Gathering – The Best Zombie Commanders
It's not the card itself that makes this card go from being a fun pop culture reference to being a real deal breaker. There are four different versions of the extremely slow zombie, each in a slightly different pose and a different season. In summer, a robin nests in its mouth. In winter, someone gave him a Santa hat. Cute!
9

Cheap ass
There are a lot of donkeys in the Unhinged set, and by that we mean there are a ton of donkeys that Wizards decided to include for cheap laughs. Most of them are random, but Cheap Ass' cheap basement vibe puts it above.
While her name and granny outfit might make for a good initial gag, it's the special effect that makes you laugh. Half a mana, huh? Last time we checked it was good for literally nothing. It's like the time your grandmother, forgetting about inflation, gave you fifty cents for a new Lego set that cost twenty-five dollars. Thanks Gram! Fifty more and I'll be building this X-Wing in no time.
8

OMRSTPLRLCNSWMTCTHTALCNEE
Magic: The Gathering isn't all about swords and sorcery. Sometimes it looks more like company politics. Especially in Un-Sets, Wizards of the Coast is opening the cover to reveal the magic of what's going on in Magic and it seems, like any other work, that there are a lot of little squabbles going on.
Our market research shows that players like very long card names. So we designed this map to have the longest map name ever. Elemental, also known as OMRSTPLRLCNSWMTCTHTALCNEE, is the pinnacle of cross-departmental shenanigans. You bet Greg never told the R&D department what to do after this one!
seven

Very cryptic command
If you're not playing Magic, hearing a conversation between two players is like coming across a group of lawyers speaking a foreign language. Summon three creatures for your undead Hellhound to have the fateful hour? And you're gonna kick him twice before attacking? Leave that dog alone, please.
Wizards knows its cards can get a bit obtuse, though, and this unstable parody of Cryptic Command is a perfect example of that self-awareness. There are several versions of the card, each allowing you to choose from several unrelated effects, such as flipping one of your opponent's cards. Some might be useful, but most of the effects end up confusing.
6

absent
Anyone who plays Magic knows your graveyard isn't the end. Some decks even use the graveyard to your advantage, allowing you to play powerful cards there after they've been discarded. It is the exile zone which is the true cemetery. With the exception of certain cases, not everything that enters the exile zone leaves it. It's offside. Period.
RELATED: Magic: The Gathering's Most Powerful Dimir Commanders
Not really. As time passes and Wizards releases new sets, more and more cards come out with the Exile mechanic, making imprisonment less than permanent. Instead of introducing a balancing mechanic, AWOL creates a third level of suppression, "the area absolutely removed from crazy play forever". Let's be honest, though. They will change that too.
5

killer mantis
While not everyone takes it that way, Pro Wrestling is inherently funny. It's a soap opera full of big, burly dudes being big and burly, a self-parody that pokes fun at toxic masculinity while perpetuating it. What if one of the wrestlers happens to be a giant mantis wearing a Luchador mask? So much the better.
While it's fun to take the rules of the card seriously and throw it at least three feet away, it's even more fun to imagine it knocking down a parade of the powerful cards from your opponent. Don't try to remove his mask, or you're in for a world of pain.
4

Strategy, Schmatology
Sure, you could spend your time meticulously crafting a Magic deck, spending hundreds of hours and dollars creating an intricate masterpiece, but that's boring. You have things to do, like talking to other people and not making Magic decks. Why not just throw some mayhem in there and be done with it?
If you like this kind of game style strategy, Schmategy is for you. As an agent of absolute chaos, he turns any trick into a piece of shit, destroying artifacts, lands, or hands in the process. It is not a card to play to win. Instead, it's here for anyone who wants to revel in total destruction while others try to play seriously.
3

Ambiguity
Like Very Cryptic Command, Ambiguity pokes fun at the twisted terminology that Magic: The Gathering players routinely have to deal with. Unlike Very Cryptic Command, it is actually very difficult to crack.
RELATED: Magic: The Gathering – Planes We'd Like To See Revisited In The Future
According to our sources, what Ambiguity as a spell probably means: If someone counters a spell or plays a spell that comes into play with a counter on it, there are two possible effects. The caster can either counter another spell or place an additional marker on another card. And it's even confusing. It might be hard to fathom, but it's pretty hilarious to think of a rules advocate arguing over the semantics of this card like a theologian writing an exegesis on the book of Job.
2

Mine, mine, mine!
Playing Magic is all about using the rules to your advantage. If you're able to create a deck where the cards work well together, you'll do much better than someone who organizes one around a theme. And, while each new set adds new rules that upend the viability of the deck, rarely does a card arrive that changes the rules completely.
Enter mine, mine, mine! An Unglued card that forgoes conventional rules and forces you and your opponent to play with your entire library in your hand. It also ensures that you can only play one spell per turn. The card is less funny on its own than some others, but it's hilarious to play, because it takes whatever strategy your opponent might have had, looks it up and down, and says "No."
1

Alexander Clamilton
If you missed the hit hip-hop musical based on the life of one of America's founding fathers, don't worry. You can reproduce it in Magic: The Gathering. Except that here, instead of being a gifted blacksmith who never throws his shot, it's a gifted blacksmith who is also a clam.
Besides being a nice pun, Alexander Clamilton's special abilities also pay homage to Lin-Manuel Maranda's groundbreaking play. Against an opponent with lots of rules text, aka one who can spin sick beats, Clamilton does well. Against someone who can't spit streams, however, Clamilton can't compete. You win this round, Aaron Burrvalve.
NEXT: The Biggest Differences Between Magic: The Gathering and Spellslingers